Butcher Lambs

We are now taking deposits for 2018 butcher lambs.
$6.25/lb hanging weight
Custom processing is included
*Processing at Foss Fine Meats - Sparta, WI


Superb Quality Meat is our Goal!
If you would like to be put on our list to reserve a lamb for 2018, please contact us. Butcher Lambs do sell out Each year.


Inspected / Graded Prime
Sugar Ridge Ranch Lamb on the hook at Foss'
(Our lambs routinely grade Prime)
We will work with you to accommodate special requests for your holiday requirements. Please reserve early if you prefer intact male animals.
608-637-6474
SugarRidgeRanch@Frontiernet.net
Thank you!



Our Butcher Lambs are $6.25 / pound, this price includes the processing.

The price is calculated off of the "hanging weight" meaning, priced per pound after the animal has been butchered & is ready to be made into the cuts of your choice. Hanging weights vary, but typically are around 70#, meaning your total cost would be $437.50 for a lamb with a live weight of 135#.

Ordering is easy!

--We require a $100 deposit for your lamb. Each lamb is a custom order, first come, first serve basis. After you reserve your lamb, we will call you to discuss how you would like your cuts made and give you an approximate date as to when your lamb will be ready. We will take your lamb in for processing and after we receive the hanging weight from the butcher we will notify you of the remaining balance due. Upon payment, all you have to do is pick up your meat from the butcher. It's that easy! No extra fees, or making a separate payment to the butcher.

--We now have a tab on our Store Front that allows you to make a deposit using PayPal. We also accept cash or good checks. Final payment can be made with cash or good check or we can send you a PayPal invoice if you prefer.

To Order -- Click below to be directed to our secure store front to reserve your lamb and pay with PayPal--
http://www.shop.sugarridgeranch.com/Reserve-Custom-Order-Lamb-Lamb-Deposit.htm

OR--- you can print out an Order Form from the tab to the left and mail your deposit with a check.

--------------------------------------------------------------------------------------------------------------------------------------

Frequently asked questions....


How do Sugar Ridge Ranch's lambs compare to store bought lamb?

Wholesome & Fresh!
You can rest assured that you are getting safe, wholesome meat when you purchase a lamb from Sugar Ridge Ranch.
We never use growth hormones or growth stimulants
Our lambs are never fed antibiotics or treated on a routine basis. Medications are only administered when absolutely essential for the health and well being of the animal. We keep excellent records of any animal that has been treated and all label withdraw times are monitored & followed.
If you prefer a lamb that has never been treated with antibiotics of any kind, we can offer that option. Only a very small percentage of our lambs ever receive antibiotics. Most years, we do not have to use any antibiotics on any of the lambs. On the rare instant that we do have to use an antibiotic, it is out of necessity for the welfare of the lamb.
Our lambs are fed home grown grass / alfalfa hay mix free choice and supplemented with grain. No animal byproducts or hazardous feed additives are ever used. We also offer the option of purchasing lambs that are only grass fed. Please note - Grass Finished Lambs will have an approx. 10-20% smaller yield of meat overall. It takes longer to grass finish lambs, therefore they are older. This will give the meat a more intense flavor.

Taste and Flavor

Our lamb is the highest quality available. We breed our sheep with an emphasis on natural rate of gain. Our lambs are treated with kindness, compassion and care their entire lives here.

What does this mean?
Rough treatment, feedlot stress, crowding, long shipping times, cruelty and disease are non existent at our farm -- yielding you a better tasting & higher quality cut of meat. We are present when nearly all our lambs are born and always present within an hour of birth. During lambing, our ewes are monitored around the clock. You can rest at ease knowing where your food originated and know that the animal had a good life.


Compared to lamb sold in stores, our lambs are...
Younger, often by 2 months, which means they are more tender and milder flavored.
Bigger and heavier muscled, which means more meat and bigger cuts. Our butcher lambs are bred with an emphasis on long, thick loins & heavy legs.

Fresher. The lamb is butchered and goes directly to your freezer. Doesn't get much fresher than that!
Environmentally sustainable. Our lambs are not trucked across the country or hauled long distances to a packer, thus using less fuel & resources. We feed only locally grown feed & do not use harsh chemicals on our pastures for weed control. Our sheep manure is used back on our fields to provide natural nutrients for the soil.
Our sheep receive plenty of exercise, fresh air, grass & sunshine - All contributing to a healthier, better tasting animal.

Combination of Hay/Grass/ Supplemental Grain fed, contributing to superior marbling, tenderness and flavor - compared to range-reared and imported lambs. Grass finished only is also now an option.

Convenience

Purchasing a butcher lamb from Sugar Ridge Ranch is easy!

We require a $100 Deposit to hold your lamb, pay using PayPal on our store front, cash or good check. We will call you & confirm how you would like your cuts made. Your lamb will be processed & packaged just the way you ordered. Once we have the hanging weight from the butcher, we will call you & let you know the balance due. Upon full payment, all you have to do is pick up your meat from the butcher-- Foss Fine Meats is located in Sparta, WI.

How long will it be until my lamb is ready?

We will have lambs being born yearly Jan-March. The majority of the lambs will be ready for processing Mid May - June. We will notify you when we have a date set up with butcher, (usually we schedule processing in April). We will notify you again after we have the hanging weight total from the butcher. We will also let you know at that time when the butcher plans to have your meat ready for pick up. Usually this is usually about a week after processing. Please note, the processor will not release your meat until your total has been paid to us.


Value

In addition to knowing you are getting the best quality meat available, you also get real value. Our 2016 lamb price is $6.25/lb hanging weight, which also includes the butchering & packaging fees in the price. (Please note-- Special Early Holiday Lambs for Easter & Passover are $7.25 /lb and will have a hanging weight of 35-45#)
Lambs are sent to market at approximately 120-140 pounds, live weight. The variance of weight has to do with the frame size of the individual animal. Just like people, some are a bit larger than others. We have each lamb processed based on when it will yield the most optimal cuts of meat.
Many people are unsure of the real value, so we offer the following example: A

120 lb lamb will yield approx. 56-60 lbs of meat.

The average retail grocery store price of lamb per pound is roughly $10.50 or more per pound vs. $6.25 /lb for Sugar Ridge Ranch Lamb.
The same amount of meat at current prices (though lower quality) will typically cost in excess of $550 purchased in a retail market. Buying a lamb from Sugar Ridge Ranch, will provide you with a freezer of superb quality fresh meat at approximately $175 or more below retail market price.
See the diagram below for a breakdown of this information, including how much meat you can actually expect from the different cuts from a 120 lb. lamb.


*Diagram based on actual July, 2012 retail lamb prices.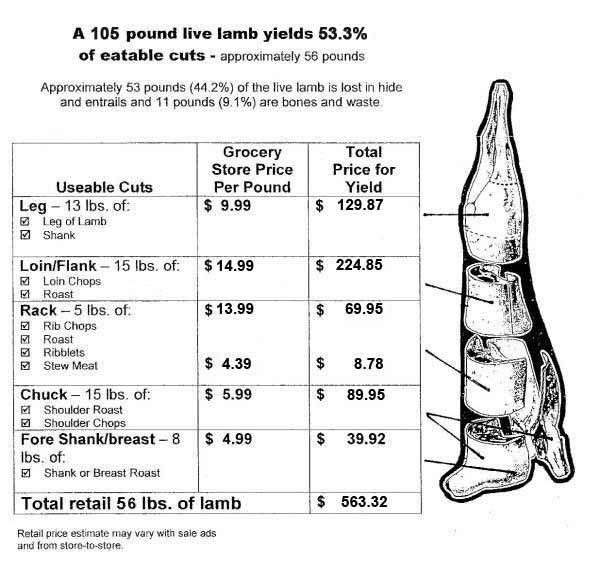 Common Misconceptions About Lamb
Lamb does not taste good.
In fact, lean lamb has a delicate, mild flavor. If you enjoy venison or some of the other wild meats, you will appreciate the more robust flavor of mutton, which is what meat from an older animal is called. Sugar Ridge Ranch has mutton available from time to time. Please call first for availability.
Lamb is expensive.
In fact, lamb purchased from Sugar Ridge Ranch is priced at over 40% below retail price. Our lamb price is similar to the cost of retail beef.

Lamb is hard to prepare.
Actually, lamb is quite easy to prepare. It can be broiled, grilled, roasted just like any other cut of meat. And, with just a little sprinkling of your favorite spice, it is tender and delicious!
Lamb is only for special occasions.
Lamb can be a great signature item for a special meal. But, the reality is, it can be prepared anytime and makes a great change of pace from beef, pork, or chicken. Did you know that lamb makes delicious burgers? Season and cook as you would a hamburger! Braise lamb loin pieces in red wine, garlic, and rosemary and serve with steamed red cabbage or brussel sprouts for a delicious and healthy dinner. The hearty flavor of lamb makes it the perfect choice to be featured in a stew. These are just a few of the recipe ideas for enjoying lamb.