The Butcher that we work with is
Foss Fine Meats
, in Sparta, WI.
You will pick your meat up directly from their retail meat store.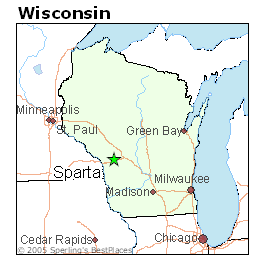 Foss Fine Meats is located at:
325 W. Wisconsin St.
Sparta, WI 54656
ph 608-269-6456
www.FossFineMeat.com
-We choose to use Foss' because of their superior reputation, ethics and commitment to quality. We also believe in supporting locally owned, family businesses.
-The city of Sparta is conveniently located off Interstate I-90.
-Foss' is willing to work with us & you to provide you with the highest quality meat processing possible. If you have special requests for cuts or meat preparation, please let us know & we will work with Foss' to tailor your custom order to your specifications. We want you to be happy & be a repeat customer!
-Foss' is an inspected facility. All our animals are inspected and graded at butchering. Our lambs and hogs routinely grade "Prime."
-Foss' is a skilled processing facility. Their butchers know how to cut meat properly & minimize waste. More meat for you! They also do a nice job of wrapping the meat in plastic and then butcher paper. All the cuts are labeled as well - making it easier to select your next dinner item from your home freezer.
-Foss' allow us to bring animals to their facility & they are immediately and humanely slaughtered. As a producer, this means our animals leave our farm where they were raised, travel a short trip in our uncrowded, bedded, comfortable trailer, are unloaded by us & are never given the chance to experience fear or cruelty. Our animals are under our care literally until they are slaughtered. This is typically not how livestock is
processed. Many processors require animals to be brought in the night before & left in crowded pens without food or water for at least 24 hours before butchering. Sometimes they are reloaded on a different truck & transported hours or days before butchering. Not only does this result in scared & exhausted animals, it also yields tougher, drier meat.
Stressed animals release endorphins into their system which affects meat quality and flavor. We take great pride in our animals & seek to minimize their stress, which in turn results in fresher, superior quality meat.
-If you would rather use a different butcher, we will do our best to accommodate you. Please be aware that this may affect your final cost, as not all butchers charge the same for processing. Live animals can be purchased directly & you can transport them to the facility of your choice if you prefer. Please contact us for pricing and availability.